(this post contains affiliate links)
So, today, I finally got round to having a REALLY good look at the Build Your Bundle sale options. I am simply blown away, and super excited, about what I am "walking away" with, from my shopping trip.
(Don't you love those kind of shopping trips? The kind where you
don't
need to pack all the children into the car, endure a journey with fighting and moans, trail them around umpteen shops, then bring tired, grumpy children back home in the car, where they fall asleep, then don't want to go to bed when you need some peace and quiet???)
I am not one to keep something great from those I care about, so I want to highlight some of the fab items I have bought - especially the resources for the younger years.
Early years education is an area that divides in the home-edding community. Many will use highly structured pre-school programmes. Many will say "do nothing - they will learn from having fun!". There is merit in every camp, but I particuarly felt I needed to give my littles something more structured to do - more to keep them occupied, than anything else. I also felt that I was missing out in focussing on character training - teaching them whilst they are young.
Having had all this on my heart, imagine my excitement when I looked at the bundle for "Tots and Pre-school", and found lots of wonderful resources, particularly focussing on character!
This bundle is great for ANY parent, whether you plan to home educate or not. Every small child needs to be taught about godly character, and how God expects us to live!
First off, there are several different character training resources, all offering a slightly different focus. As you may know, repetition is a GREAT thing for children to learn more efficiently, so by working through all these different resources, certain qualities will be emphasised more than once, making it more likely to be remembered. At the same time, it gives you variety as the parent and teacher, which is always good!
Raising Rock Stars is a f

oundational preschool program based on God's Word. It begins with the foundation of learning, memorizing and applying a verse each week, taken from the awesome book,

My ABC Bible Verses

. Kumon inspired learning with colors, numbers, and sight words incorporated along with early reading skills. There are lovely tracing cards, fun lollipop stick props (I LOVE these!), and many other helpful printables. It would be a brilliant addition to any phonics programme.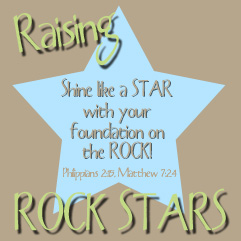 Another great set of resources is four different items from Character Concepts. One is the
Character Concepts for Preschoolers Mom`s Guide.
It's a teacher's manual with 36 weeks of lessons based around 12 character traits. They suggest many ways in which you can apply and reinforce these characters, with resource lists and fun ideas. Also from Character Concepts is
Proverbs for Preschoolers: Through the Proverbs from A to Z. This has a lovely selection of verses from the book of Proverbs, with pictures to colour, letters to trace, and verses to learn. They are nice and simple, for little hands to manage. Then, there's Character Trails Flashcards.
This set of 12 full uflashcards is designed to help you as you teach your children to hide God`s Word in their hearts! In order to apply character to their lives they must first understand what it is with simple, kid-friendly definitions (illustrated on the front side along with Bible pictures). On the back side they learn what God`s Word says concerning this quality (illustrated by pictures from the Boyer cousin story in Character Trails). In less than 5 minutes a day, children will learn and soon internalize godly character in their lives.
Finally, there's Hands On Character Building.
Create precious family memories as you dive into projects, activities, and games designed to teach kids obedience, self-acceptance, a forgiving spirit, meekness, hunger for righteousness, and a bold testimony. These items normally cost $50 alone!! They really add to the bargain of this particular bundle!
Another one, which I am looking forward to trying out, is, Character Badges!
Character Badges is a system consisting of three charts (the Obedience Chart, the Disobedience Chart, and the Consequence Chart), a series of specially designed badges, and a set of flash cards which work together to make character training fun and rewarding for both you and your child. It;s bright, it's colourful, and more

importantly

it teaches your children about character in an encouraging and positive way. It's designed for children aged 3-12, so it is not just for your little ones, but it's good to start training them

whilst

they are young!
Another one, which I hope will provide me with some much-needed inspiration, is
101 Independent Activities for Tots & Pre-K.
This is an e-book packed with ideas of activities which can be done

independently

, by your littles! These sound perfect for any mother trying to juggle little ones, with helping older ones with school work. I know we would certainly benefit from this! My feisty 2 year old, and my emotional 4 year old, (never mind ALL my other children) could do with some encouragement in this area.
This is just a selection of what is available in the bundle.
These items ALONE are worth $70 retail value, so by buying the bundle, you have a saving before you add any of the other great items!
I am really pleased with it, and printing out the various components is now on my "to-do" list for the summer, because I have a very keen 4 year old who could do with an some letter work, in a fun medium, before he starts his formal schooling next year.
I must reiterate that this particular bundle would truly benefit any parent. There is so much of value in it, which would be a valuable tool in training your children.
Head on over to the site, by clicking on the image below, to find out much more. Whilst you are there, have a look at the other bundles, too. I have gone for this deal...
Yes, I am a Scot, who can't resist such a great deal!
Don't forget that you can build your OWN bundle, choosing from any individual item valued at $19.99 or less. ear in mind, though, that you'll miss out on some doozies, but you'll also stick to only the items you really, desperately want. Have a look around at everything, and choose your own adventure!
Right, I'm off to add printer ink and laminator pockets to my summer spending list!